A New Floor in the Sun Room
PNC volunteers diligently work to install a new tile floor in the Sun Room classroom.  The new flooring is part of the school's effort to reduce allergens by replacing the carpet.    ​Thank you to our friends at PNC Bank!
Adventure Aquarium Visit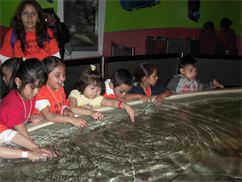 "Come explore nearly 200,000 square feet of sharks, hippopotamuses, free-flying birds and sea life from around the world."  
And so the 46 three- and four-year old PNS students did--thanks to our sponsor, PNC Bank.  At Adventure Aquarium in Camden, NJ, the children had a full day of learning about marine life and seeing marine habitats first hand.  In addition to sponsoring the event for the PNS children, PNC Bank sent four of its staff members, led by Patricia Kane Corporate Event Manager, to serve as volunteers on the trip.  Ms. Kane explains, "PNC Bank recognizes the importance of early childhood education and we work to support underserved populations to realize their full potential."  Our thanks to our friends at PNC Bank for making this possible!! 
Splash Week!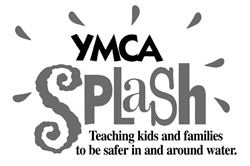 During the first week of spring, while winter was trying to keep its grip on us, the children of Princeton Nursery School were invited to enjoy a week of swimming--three days at the Princeton Theological Seminary Pool and the last day at the Princeton YMCA Pool. 
Paul Zeger, the aquatic instructor at the YMCA taught the children water and boat safety through a combination of water activities, stories and films.  Activities were wrapped up on Friday with a presentation of certificates and badges to all the children attending.
We'd like to thank the Princeton YMCA, Princeton Theological Seminary and Johnson & Johnson for making this event possible.
Rotary Club of Princeton Launches Literacy Project
In support of Rotary's commitment to literacy and in recognition of the month of March as Rotary Literacy Month, the Rotary Club of Princeton has initiated a new Literacy Project with the Princeton Nursery School.
Throughout the month of March, members of the Rotary Club, including some spouses, read to children ages two and a half to five at the Princeton Nursery School. The teachers at the school chose the books for the Rotarians to read from among the children's favorite titles.
As a result of their initial experience, several of the members of the Rotary Club, who read to the children as part of the month of March Celebration of Literacy, are continuing to read to the children on a regular basis.
The Rotary Club plans to support this project as part of its on-going commitment to literacy.
As part of celebration of Literacy Month, the Rotary Club also gave each child at the Princeton Nursery School a book to take home. Each child in the three year old class received a copy of It Begins with an A and each child in the four to five year old class received a copy of Chicka Chicka Boom Boom.
Jr. League Tea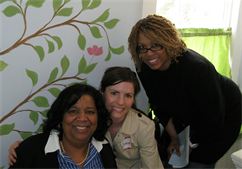 Members of the Junior League of Greater Princeton treated friends and family of Princeton Nursery School to delicious tea and treats as we celebrated the unveiling of our beautiful new mural.  Members of the JLGP worked several months on the project.  The team worked in shifts during the week and on week-ends in order to adhere to their strict time schedule.  The JLGP also worked on two additional literacy projects in conjunction with PNS students and teachers--the creation of an English/ Spanish Word Book and a scrap book for each student.  Our thanks to Minda Alena and Katie Rosenthal, who chaired the project, and to the entire JLGP team for this beautiful addition to our school.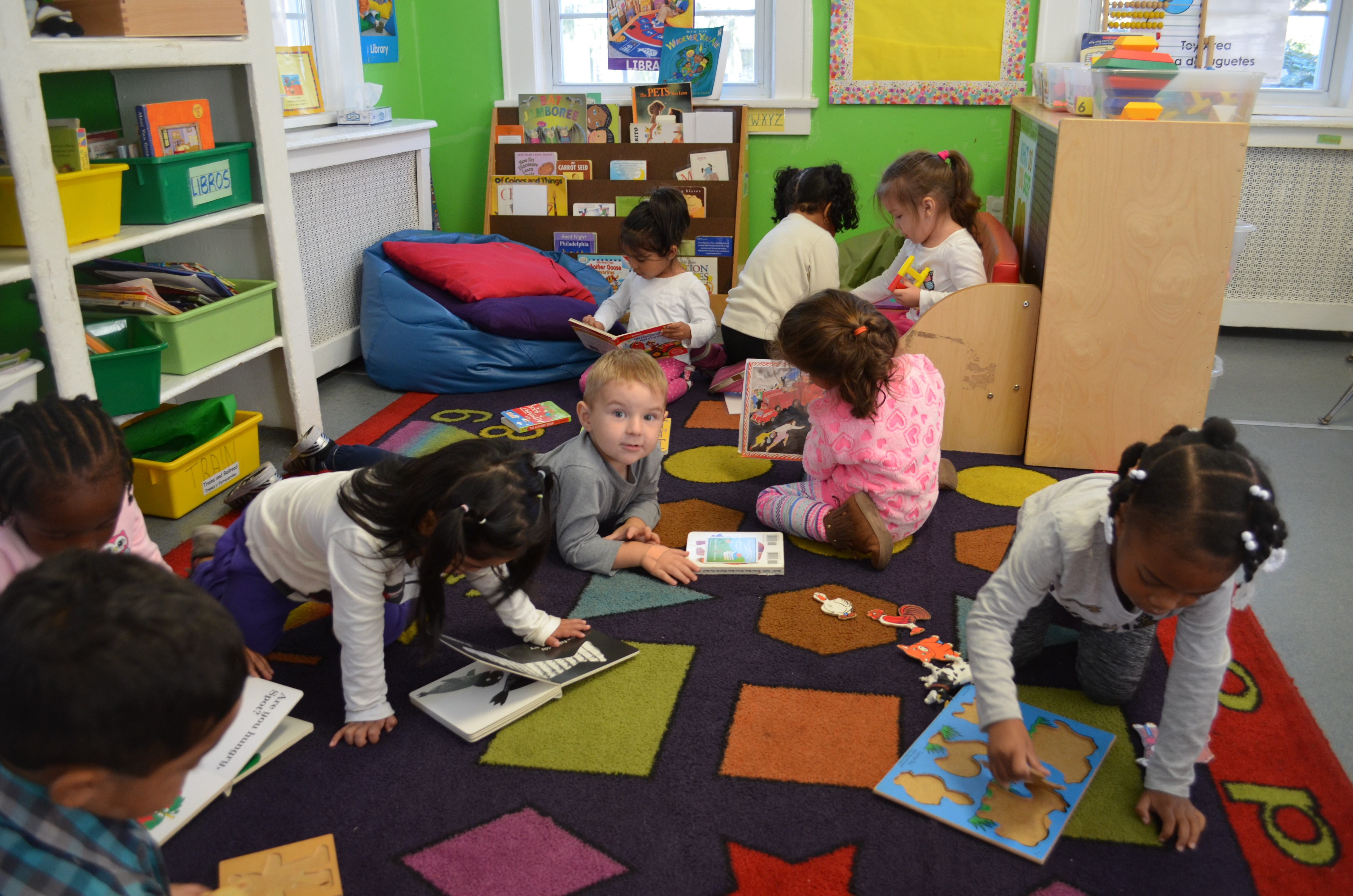 Welcome !
Welcome to the Princeton Nursery School's website. 
For the past 90 years, PNS has provided quality childcare and early childhood programming. Located in the historic Witherspoon-Jackson community, PNS continues to deliver its Mission each day to our families and the community.
PNS partners with many organizations in Mercer County to provide the much needed support services for our families. Volunteers are a crucial aspect of our school and we welcome volunteers of all ages. Check out our Volunteer Page if you are interested in joining us.
PNS is a not for profit organization who depends on the generosity of individuals, companies, and foundations. If you would like to support our programs and service, please visit our Support PNS page.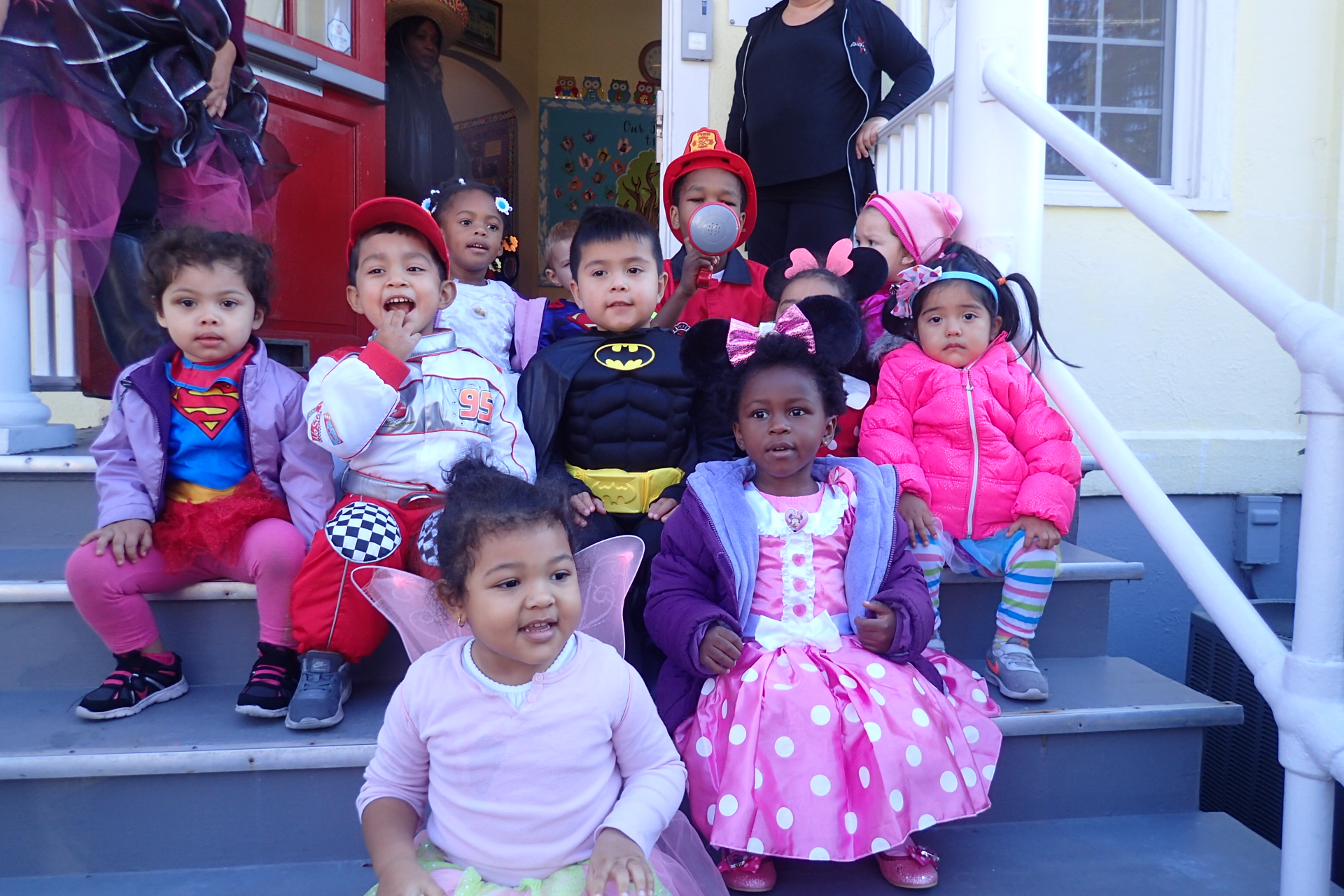 School Calendar
PNC Grow Up Great Volunteer Visit - Thursday, April 4, 2019
Early Mercer Reads Program - Friday, April 12, 2019
Kitchen Dedication - Saturday, April 13, 2019  11:30am
School closed - Friday, April 19, 2019
Witherspoon-Jackson Community Weekend Events - May 18 and May 19, 2019
PACE Field Day - TBD
Multicultural Night - TBD
Field Trip - Tuesday, June 11, 2019
Graduation and Concert - Friday, June 14, 2019  10am
Summer Programming begins - Monday, June 17, 2019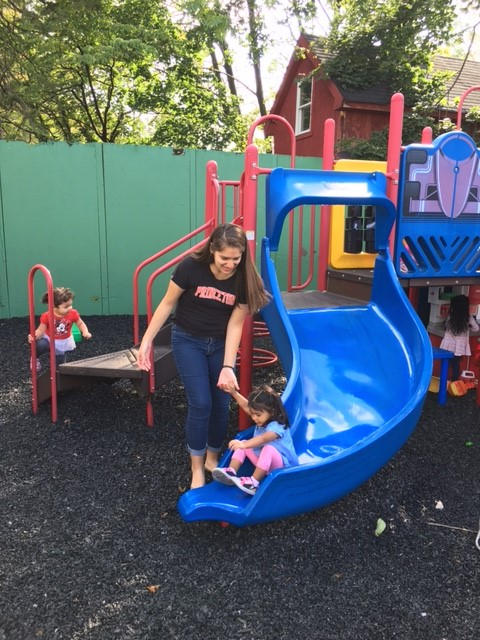 Give Today!
Support PNS by giving online today for our Annual Fund that supports our student scholarship program. Or you can support PNS by purchasing an item(s) from our Amazon Wish List - you can click here or search by using the email pnskids@gmail.com on Amazon.com. Also remember to go to smile.amazon.com and choose Princeton Nursery School as your selected charity for Amazon to donate to PNS.