What We Do
For the past 93 years, Princeton Nursery School has provided quality preschool programming and child care for children aged 2 - 5 years. Located in the historic Witherspoon-Jackson community, PNS continues to deliver its mission each day to our families and the community.
PNS partners with many organizations in Mercer County to provide the much needed support services for our families. Volunteers are a crucial aspect of our school and we welcome volunteers of all ages. Check out our Volunteer Page if you are interested in joining us.
PNS is a not for profit organization who depends on the generosity of individuals, companies, and foundations. If you would like to support our programs and service, please visit our Support PNS page.
Ratings and Accreditation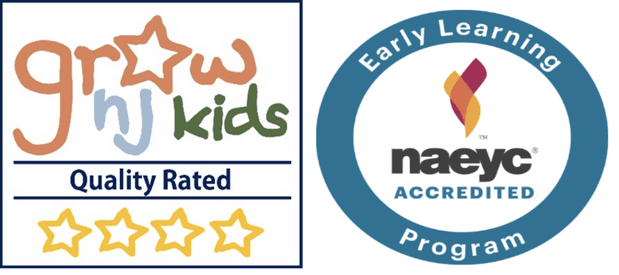 Princeton Nursery School is a 4-star quality rated early childhood education center by Grow NJ Kids and is a nationally accredited Early Learning  Program by NAEYC. .
PNS by the Numbers

Ages:  2 1/2 years - 6 years

Open:  

12 months Monday - Friday   

Hours: 7:30am - 5:30pm 

3 Classrooms - Star, Sky and Sun Classrooms

Volunteer hours : 1840 hours annually

People helped: 192 annually

Program participants: 48

Services Included: Breakfast, Lunch and Snack Daily

Program:  HighScope Curriculum, COR Assessment

Accreditation:  4 Star Rating GROW NJ KIDS,  NAEYC Accredited

Tuition Support:  Child Care Connection Subsidy Program and Scholarship Funds available

Give Today!

Support PNS by giving online today for our Annual Fund that supports our student scholarship program. You can also support PNS by purchasing an item(s) from our Amazon Wish List (click here) or search by using the email pnskids@gmail.com on Amazon.com. Don't forget you can go to smile.amazon.com and choose Princeton Nursery School as your selected charity for Amazon to donate to PNS. No gift is too small!